Zombie Roadkill 3D
1.0.11
Zombie Game – Mow Down the Zombies Using Powerful Guns
Do you love shooting machine guns? Are you in the mood to shoot down some zombies? If yes, then this zombie game is an ideal choice for you. Zombie Roadkill 3D is a fun game in which you get to kill the zombies on the road using a variety of different weapons and vehicles. It puts you in a town that is being overrun by zombies. Your job is to stop the rise of the zombies and kill as many of them as you can. You will have to drive around on your vehicle of choice and gun down the waves of zombies that will be trying to eat your brains. To kill the zombies, you can use the machine guns and heavy artillery atop your vehicle.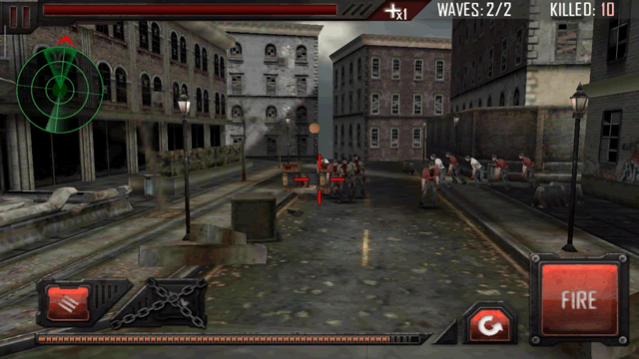 Zombie Roadkill 3D has action-packed gameplay that is ably supported by nice graphics. You will find the controls of this zombie game very responsive and easy to understand. There are two buttons located on either side of the bottom of the screen for moving your vehicle while driving. You can also choose the tilt function for steering your vehicle. The guns mounted on top of the vehicle can be fired using the fire button provided on the screen's bottom-right corner. You can switch between the two guns by tapping their respective icons that are located on the bottom-left corner of the screen. To take aim at the zombies rushing towards you, you can slide your fingers on the screen and pick out your targets.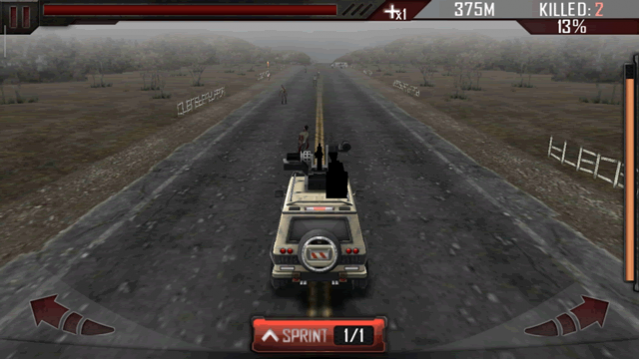 This zombie game offers two different game modes to you. The first one is the Story mode in which you get to complete different missions. Each mission comprises of three objectives that you need to complete. Achieving an objective will award you a star. However, to complete a mission, you don't need to achieve all the objectives. The mission will be completed if you are able to defeat all the zombies or reach the road's end without dying. You will be rewarded for each mission you complete in the form of cash. This cash can be used for buying upgrades to your guns. The second game mode available to you is the Endless mode in which you get to survive an endless wave of zombies for as long as possible.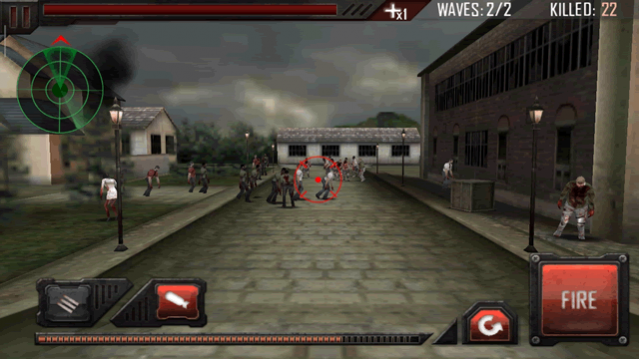 Zombie Roadkill 3D provides you machine guns and other powerful weapons to gun down the zombie hordes. There are two weapons mounted on your vehicle. The first one is the primary weapon which is the machine gun while the secondary weapon is a powerful weapon. While the primary weapon can be fired to kill one zombie at a time, the secondary weapon can wipe out multiple zombies at once. However, the secondary weapon takes a lot of time to load. So, you can use it sparingly. There are multiple types of heavy weapons available that include rocket launcher, flamethrower, and tesla coil. You are offered a variety of different vehicles to drive in this zombie game too that can be bought using the cash you earn for completing missions.
Features:
Two different game modes
Story mode comprising of challenging missions
Kill as many zombies as you can in Endless mode
Different types of zombies to kill
A wide range of vehicles to drive around
Various types of guns to shoot the zombies
Upgrade the guns to make them more powerful
Grenades and mines available to kill multiple zombies
Complete the objectives in a mission to earn stars
Earn cash by completing missions
Medkits available for regaining health
Conclusion:
Zombie Roadkill 3D is a gaming app that is designed for people who love killing zombies. It provides them the opportunity to drive through your hometown on various vehicles and shoot down any zombie you see on the road. It is an excellent zombie game and you should give it a try.
---
Add a review
Tell us your experience with
Zombie Roadkill 3D
1.0.11
RELATED PROGRAMS
Our Recommendations
---
---
---
---